Spring Conference was planned this year [2010] by the women of ALUUC, Springfield, Illinois. Meg at first seemed reluctant to head the planning only because as a senior youth leader at our congregation, she was busy already helping senior youth at ALUUC plan the district youth CON that would take place just a couple of weeks before the Connection's spring conference.

She gave me hope however, with her response to my first e-mail. She thought that it might be a good direction for her volunteering to take now that she has begun to step away from her serious longtime involvement with the RE program. It could actually be planned for women like her. Unconsciously or not, I thought, the program might even help to "fill her own cup."

Now I admire the young people of UU who are graduated from the RE program each year and the leaders who guide them. They seem so ready and able to embrace their lives. They are full of ideas and hope and fun. And they are upstanding, engaged and aware of more than their teen navels.

I trusted Meg when she and her newly enlisted Co-chair, Brenda, another RE veteran, wanted to make small adjustments with the help of Teri Freesmeyer, our keynote, that would make the program planned for high school-aged youth work for women looking for a relaxing, revitalizing, spa-like weekend for women. Actually, I was so completely grateful that they were willing to guide the planning for the 52nd year of the spring conference that I told them it didn't matter that they had never been there. It was a relief to "let go" and allow these busy volunteers to create a weekend that they themselves would love. Never mind that they had never been there to experience the retreat and had no idea of what to expect.

Hadn't councilors tried since the move to Pilgrim Park a few years ago to build a spring conference that would inspire women to be there, provide some coping skills for their daily lives, give a little vacation from the concerns of their lives, become revived and de-stressed. Many women who attended the previous year had promised to come back with a friend in 2010, so we could simply break even financially.

Friday afternoon check in, a browse through the silent auction items and book exchange through pre-dinner rehearsal of the songs and chants we would be singing over the weekend and a preview of the weekend schedule was our beginning. Meg asked that at dinner we sit with someone we don't know and be prepared to introduce that person to the entire group later. After our introductions we sang a welcoming song to each using their name, so they might feel welcome. E.G. "Pat is here, Pat is here, all manner of good things will come to her now."

Now I see that all manner of good things came that weekend, but I want to recognize that what Springfield women created and prepared to share with their sisters at a weekend such as this is about what those preparers need in their lives as well as the rest of us. This is what I have been referring to as "radical hospitality", where closeness of a depth that allows friendships to form and guards to be let down happened. Stories were told and songs were learned and sung, prose and poetry of heart and soul was read. "Speed friending" and our commonality of purpose gave depth to our new and renewed friendships and a trust that allowed us to sing later about vajayjays, dance in ecstatic frenzy, giggle and joke and reveal ourselves fully to one another as friends and sojourners.
By:

ALUUC
"The pill," as it came to be called, celebrates its 50th anniversary this merry month of May [2010]. It was approved by the Food and Drug administration in 1960 when I was a sophomore in high school. There was barely a buzz about it for me. I was too busy trying to pass Geometry class, make sure my crinolines were starched to leg scratching perfection and buying my ticket to wear "peggers" one Friday a month at school.

I wasn't allowed to think about sex much less indulge. God forbid, we had just emerged from the 50s and it just wasn't done. The best contraceptive advice available for those who did "it" was, "Use aspirin." That is, "hold an aspirin between your knees."

In four years when I was a sophomore in college, things shifted. I finally noticed there was the sexual revolution and the pill was no longer aspirin, but a concoction of hormones that miraculously prevented pregnancy if you were brazen enough to do "it." Still it wasn't available for unmarried women. There were an alarming number of illegal abortions and women disappearing to shame-filled maternity homes or to homes of little known relatives out East.

In 1964, emboldened by a fierce new love, heat of hormones and the freedom of being on my own in New York City, I tried to get a prescription. Wasn't this wise life planning and protecting myself? "Are you sure you are married?" he asked after the exam. I held my ground and insisted that I was, but never used that prescription because two pharmacists refused me. Can they do that?

Now what am I hearing? Many poor women don't have access to contraceptives at this 50th Anniversary. Some groups are working here and even in foreign countries to stir up the same issues about women having control of their reproductive lives. Can women be satisfied with celibacy as a substitute for spacing pregnancies, planning our lives, having careers and family both? How far from the aspirin, as contraceptive, have we moved?

The work of Planned Parenthood is as important in 2010 as it was in the 50s. How can affordable contraception that enables women to have ultimate control of their bodies and lives be guaranteed?
By:

Pat Goller
Driving back from the 2010 Central Midwest District Assembly - UUA on Sunday before last, I read from a Meg Barnhouse book I had picked up at the assembly book store at Wheeling, Illinois. Meg, a long time UU Minister and host of "Bubba Free Radio" on North Carolina Public Radio has incredible insight and a sense of humor that in her telling makes ordinary things have special meaning and import.

The book, Did I Say that Out Loud? Musings from a Questioning Soul literally fell open to a short reading called "Brick by Brick." I read as the miles toward Springfield melted away.

Meg had been driving by a brick wall job in her hometown, Spartanburg, and observed a suntanned man in his 70s who appeared to be the job supervisor. He watched and smiled as young brick layers buttered and stacked brick, he coached, laughed, talked and encouraged others on. He, Meg concluded, seemed to enjoy his work, but she began to wonder what about it made him smile. Was it the idea of interacting with and teaching young wall builders the tricks, the techniques that form a good wall? Or was it the process? Was it the idea of finishing a long job or did he even notice how long it was and simply take joy in the day to day work? She concluded that he probably didn't even think about the end product or about the space between this job and the next, but enjoyed the process of on-going work.

The district assembly themed "Becoming the Religion of our Time," seemed much like the on-going work of building a long brick wall.

Future congregation presidents or treasurers joined the lunch tables on Saturday whose announced subject interested them. Others opted for workshops about congregational growth, social justice ministries, building multi-generational, diverse communities and adult faith development.

Starry eyed musical-types sequestered for three rehearsals over the weekend and one performance with the funny and generous Marty Swisher, Choral Festival director from Unity UU Temple in Oak Park. After the performance all were invited to Marty's hotel room for an "M & M party"! It was the first District choral fest and some opted out of the rest of the weekend to join the choir for rehearsals and performance on Saturday evening at the banquet.

Others with serious furrowed brows and questions joined in conversations about finances, governance, social outreach, programming and more. Still others like Diana and I set up vendors tables. We came to promote the UU Women's Connection and celebrate Margaret Fuller's 200th birthday by serving birthday cake after lunch. Other organizations... humanists, Channing-Murray, Women and Religion committee, etc. came to promote their causes and programs too.

I chose the Youth Service after choir practice on Saturday, because I heard one of the choir soloists singing "Imagine" by John Lennon as I walked by. His voice and guitar drew me in. These youth are always so full of hope and ideas. But this year they asked participants to pipe up with ideas about becoming the faith of our time. UUs are never without ideas and shouted out many suggestions. But that brings me back to Meg who encourages me to think about just enjoying the process and keeping up the work.

Becoming the faith of our time seems all process. Building a connecting wall, teaching others how to mortar up the bricks of raising consciousness, money and fun, taking care of business, providing programming for our congregations and taking up opportunities to seriously practice the pluralism our principals encourage us to strive for. It is what builds the wall for me...the sought after Holy Grail of being the faith for our time is already in place and we need only keep on keeping on.
By:

Pat Goller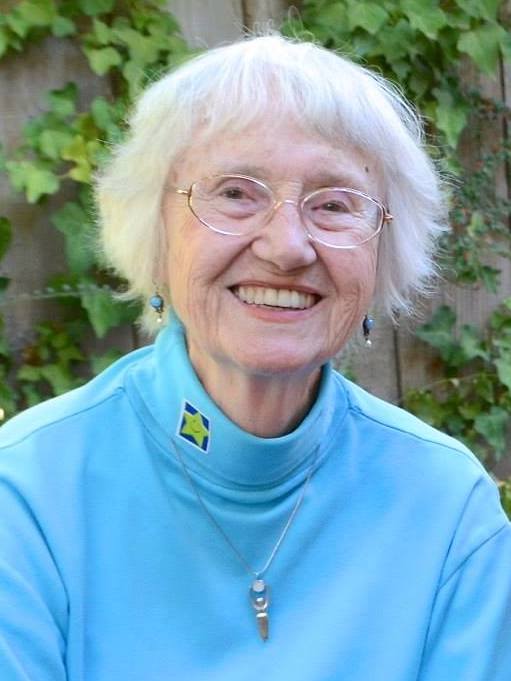 UU Rev. Shirley Ranck hits the nail on the head in her rewrite of the popular feminist Cakes for the Queen of Heaven, -- " Perhaps our most important religious task of the 21st Century will be learning to take pluralism seriously." This you can find in her essay "A Statement of Feminist Thealogy."

The chance to be with such creative and dedicated women leaders at the March 20th celebration of UU Women as leaders, as Agents of Change has given me an opportunity to think more on the challenges of our diverse faith practices under one roof. Today I am noticing our difficulty in living up to "true religious pluralism." Other days there seems to be movement. Recently I had a Wisconsin woman at ask how to attract people of color, another from Chicago how to attract Caucasians to a Kwanza celebration African American film series.

Ironically, in one salon I learned about another prejudice I hadn't recognized or thought much about before -- an atheist/humanist expressed concern about the lack of respect and sometimes disrespect for Atheists/humanists. Incredulous, she explained that humanists made important contributions to UU's Seven Principles which call us to religious pluralism.
By:

Pat Goller